If you've been dreaming of new storage that perfectly suits your lifestyle, we offer custom tailor-made pieces for any room of your home with practical, yet beautifully designed, bespoke fitted wardrobes.
Create a home bespoke to your lifestyle
Through custom-made designs, featuring an array of stunning yet pragmatic elements including shelving, lighting, and finishes, you can create a home that is bespoke to your lifestyle. From dressing rooms to dressing tables, fitted wardrobes to bathroom units, our expert team will handcraft your perfect storage pieces from design to installation.
Book Your Design Visit
Our wardrobe designs
Often Imitated, Never Duplicated
Our bespoke wardrobes are an exquisite fusion of classic charm and contemporary sophistication, thoughtfully curated to elevate the original features of your home.
Every piece of our wardrobe collection is a testament to British heritage, painstakingly created by our skilled craftsmen right here in the UK.
Each fitted wardrobe is meticulously hand-primed and painted, ensuring a flawless finish that is true to your taste.
View our design collections
Pick a colour
Every bespoke fitted wardrobe we create is meticulously primed and painted to the highest standards, seamlessly blending intricate, tradition-inspired design elements with contemporary elegance.
The result is a stunning range of premium luxury bedroom furnishings tailored to your unique style and needs.
Our Guide To Choosing Colours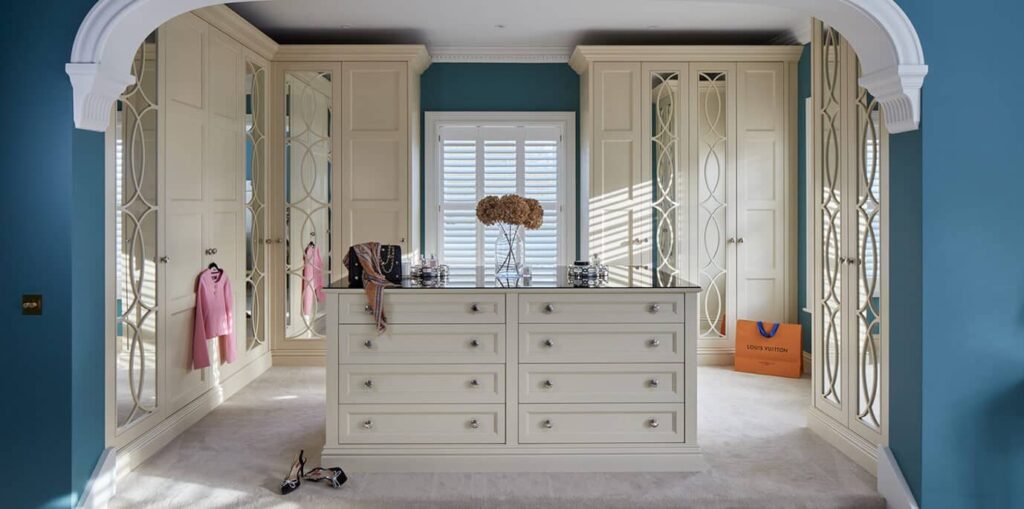 Why choose The Heritage Wardrobe Company for your fitted wardrobes?
When it comes to bespoke fitted wardrobes, The Heritage Wardrobe Company is your top choice.
With over two decades of experience, we bring a legacy of craftsmanship and excellence to every project.
Our in-house team of skilled craftsmen ensure meticulous attention to detail, maintaining the highest standards in every installation.
What sets us apart is our unwavering commitment to top-notch service and our lifetime guarantee, reflecting our confidence in the quality of our work.
Find out more about us
Why choose bespoke wardrobes?
To be bespoke is to be unique, tailored, and perfect for you. By adding bespoke wardrobes and furniture pieces to your home, you will maximise on storage space in a way that looks beautiful and adds value to both your home and lifestyle.
With bespoke storage solutions, you can carefully craft your space to consider your every possible need through exquisitely designed furniture pieces that coordinate perfectly. Whether you require additional shoe storage, display shelves for your most treasures items, or a safe space to store jewellery, with tailor-made pieces our team can design the perfect made-to-measure wardrobes for your home.
Bespoke wardrobes and furniture pieces are the best way to maximise your storage in a beautiful way across your entire home.
Book Your Design Visit
Our creations are bespoke to your tastes and requirements
Our made-to-measure bedroom furniture is crafted and tailored to your lifestyle, home, and individual design taste. If you're not sure how to get started, simply contact us at The Heritage Wardrobe Company and our design team will be happy to share ideas and concepts to deliver beautifully bespoke furniture for your home.
View our design collections
Mr Ross' elegant fitted wardrobe
Chris Ross' wanted a masculine yet elegant fitted wardrobe to enhance the character of his beautiful period home.
This striking Tudor design fits in with the aesthetic of the room, working with the beams and making a bold statement feature in a period-style bedroom.
"Quite simply outstanding service and quality start to finish… Laurent and his team at Heritage were consummate professionals. I would not hesitate to recommend them to anyone."
View Mr Ross fitted wardrobe
We are so confident in the quality of our installations that we offer a lifetime guarantee on all of our work. This means that if anything goes wrong with your wardrobe, we will repair or replace it, no questions asked.
"Superb company. Had a great experience from start to finish. The quality of the end product is stunning and the installation team were faultless. Having had a lot of renovation work done in the past, it was such a pleasant experience to find a company who exceeded expectations and actually did exactly what they promised. Would thoroughly recommend."

Chris Baylis
"Quite simply outstanding service and quality start to finish. We are just completing a year long home rebuild that has involved around 20+ different suppliers. Laurent and his team at Heritage were consummate professionals. I would not hesitate to recommend them to anyone."

Chris Ross

Maidenhead, Berkshire
"The wardrobes are a WOW just how I imagined - thrilled to bits. Thank you so much for all your work. The two guys that did the building and painting were amazing."

Christine Stephens

Hampshire
"We are very pleased with the look + finish of the wardrobes. Both the fitter + the painter were efficient + helpful. First Class."

Lesley Hunt

Herefordshire
"Excellent, efficient service from start to finish. Our wardrobes look sensational and the whole process was really easy and smooth. Can't rate them highly enough."

Anne Slater

Kent
"We had such a great experience with Heritage Wardrobe Company from start to finish. The design process was professional and timely, the lead time was really quick and the install with the fitters was tidy professional friendly and to a high standard. Would definitely recommend."

Cecilia Seilern

Kent
Bespoke Wardrobe Inspiration
Frequently asked questions
Unrivalled British quality
With over twenty-five years of British design and craftsmanship pedigree, we pride ourselves in producing beautiful bespoke bedroom furnishings with unsurpassable quality. Our expert designers meticulously study your home and taste, delivering products designed to last you for decades to come.
About us
Get in touch with our team today and begin your journey to exceptional custom-made storage. Our friendly and expert team are on hand to consult, craft, and construct your dream wardrobe or dressing room with unique creations designed to perfectly capture your vision.
Book Your Design Visit
Book a design consultation
We pride ourselves on providing unparalleled service to our clientele. Our exclusive wardrobe and dressing room design service begins with a one-to-one consultation in your home, where our esteemed designers will discuss your requirements to provide you with a unique and seamlessly fitted solution.
Book Your Exclusive Design Visit Today