Have you ever dreamt of stepping into your very own dressing room, a place where you can store all of your investment pieces, like a classic Chanel bag or a Burberry trench coat? Getting dressed in a luxury dressing room can help you feel more confident and put-together, especially when you're surrounded by your favourite clothes and accessories. 
At The Heritage Wardrobe Company, we specialise in creating bespoke dressing rooms that are tailored to your individual needs and style. Whether you're looking for a classic wood-panelled dressing room or a contemporary mirrored space, we have the expertise and resources to bring your vision to life.
Classic Wood Finishes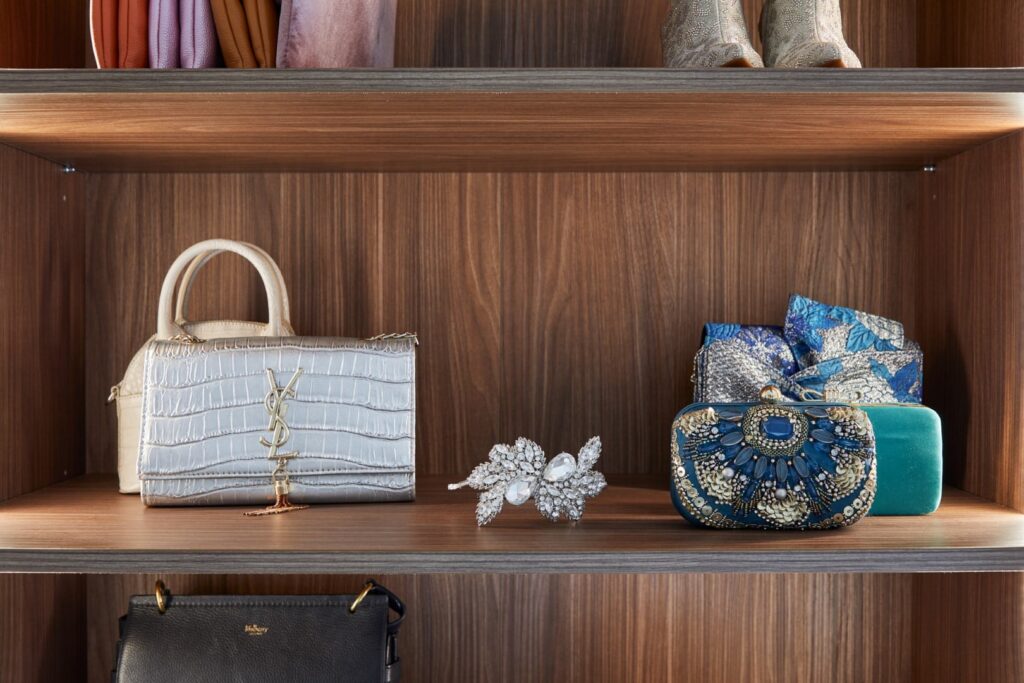 Wood finishes can instantly elevate the overall look of your dressing room. The natural grain patterns and textures of wood create a sense of warmth and richness, contributing to an elegant and inviting atmosphere. Our bespoke designs feature a range of exquisite wood finishes, from dark wood to the light, airy feel of oak, bringing timeless and elegant charm. We also ensure that our materials are durable and long-lasting, which can be a sustainable choice.
Mirrored Surfaces for Contemporary Glamour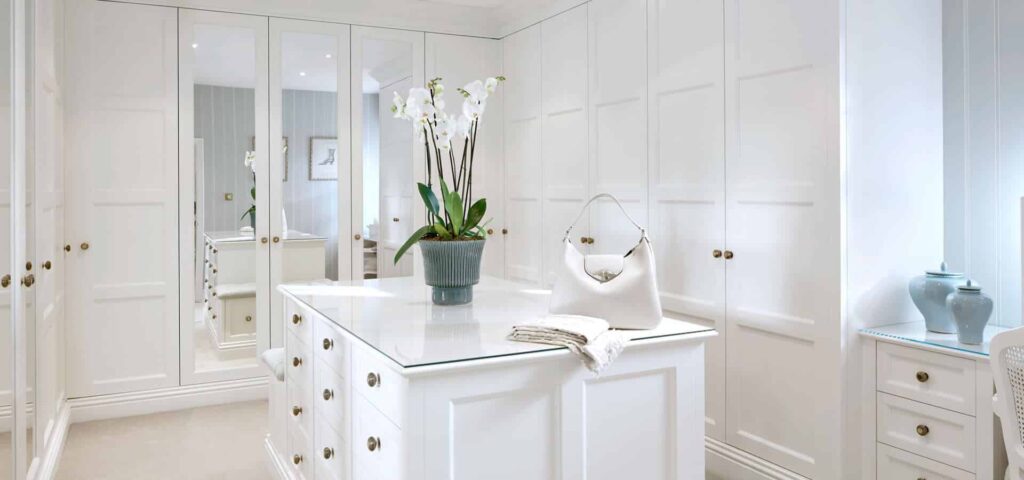 If you are fond of modern glamour, you might want to consider installing full-length mirrored doors in your dressing room. Our collection of luxurious door designs includes the classic Empire, the Imperial, and the simple yet sophisticated Stuart. Whatever your choice may be, we can assure you that your dressing room will have a touch of Hollywood-inspired allure.
Stuart mirrored dressing room doors are a more minimalist choice than Empire or Imperial doors. These doors are typically made with simple, clean lines and a high-gloss finish. Stuart mirrored doors are a great option for those who want to add a touch of luxury to their dressing room without going overboard.
Efficient Organisation with Customised Storage Solutions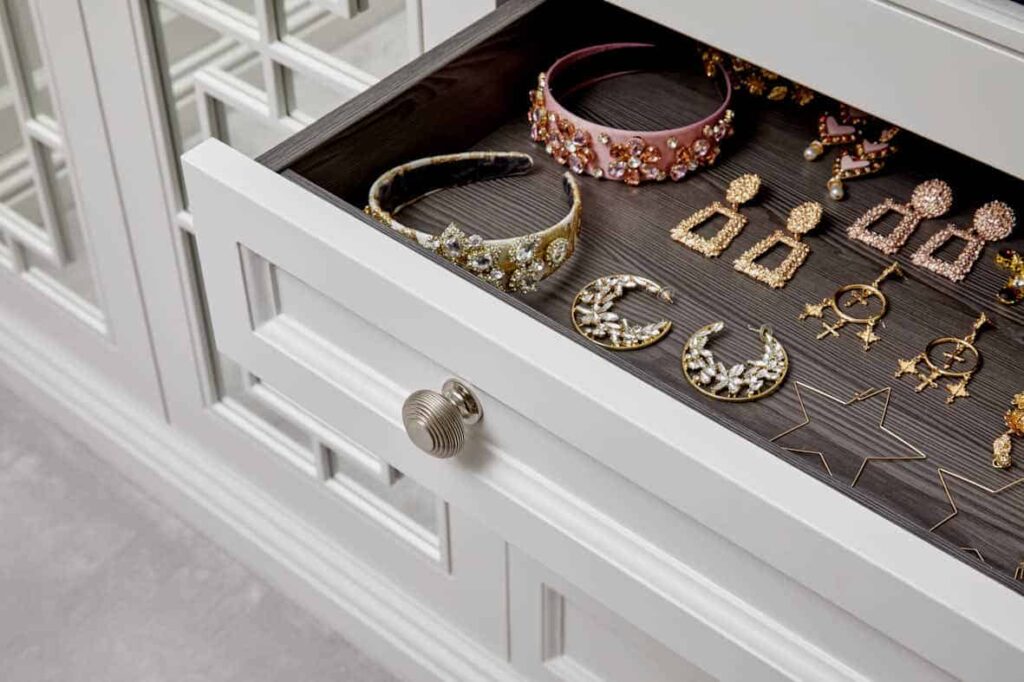 Luxury dressing rooms are synonymous with efficiency and organisation. Our customised storage solutions go beyond conventional wardrobes by providing tailored compartments for every item in your wardrobe. From dedicated sections for clothing to specialised shelves for shoes, jewellery, and accessories, each element has its designated place. These features can maximise your space and keep you effortlessly organised. 
Sumptuous Velvet Upholstery For Luxurious Texture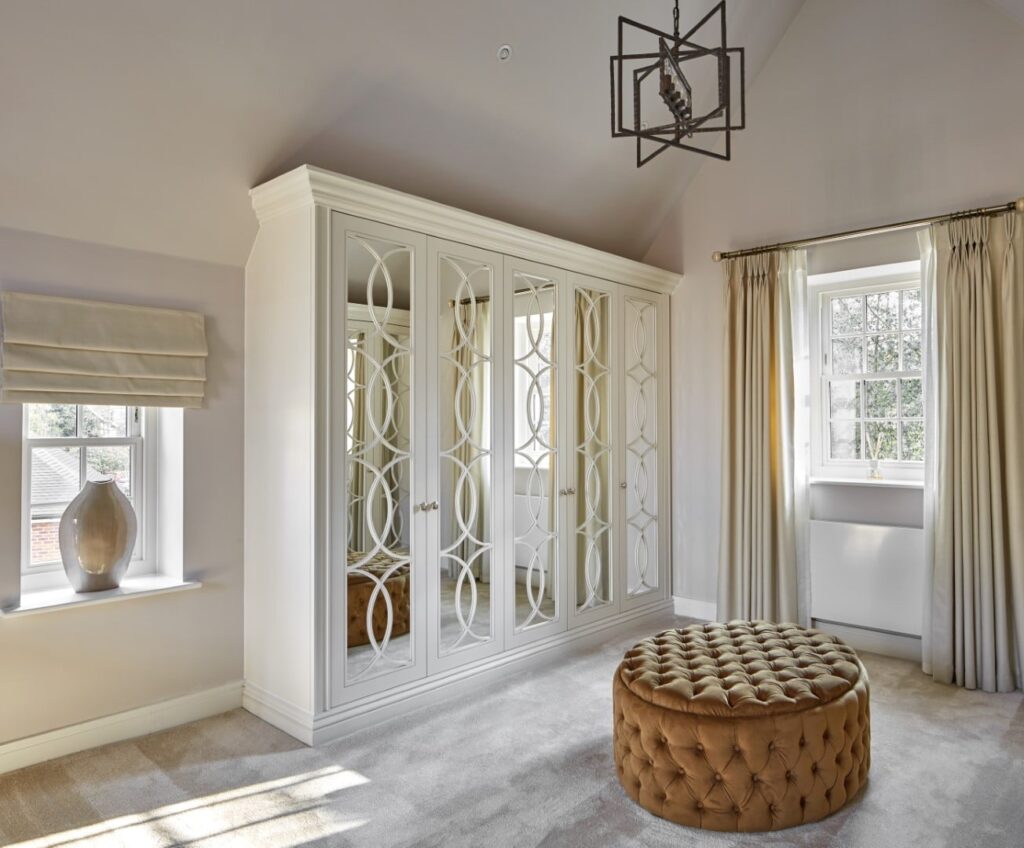 When it comes to luxury, you can't go with Velvet. Its lush texture and rich appearance instantly elevate the ambience of any space. Choosing velvet upholstery for key furniture pieces, such as an ottoman or a chaise lounge in your dressing room can contribute to the overall sense of luxury.
For those who prefer a more understated approach to luxury, velvet-lined drawers for jewellery offer a perfect touch of sophistication. Opening a drawer to reveal a velvet lining provides a gentle and protective cushion for your precious items. The subtle touch of velvet in unexpected places enhances the overall sense of luxury without being overly ornate.
Monochromatic Themes For Sophisticated Simplicity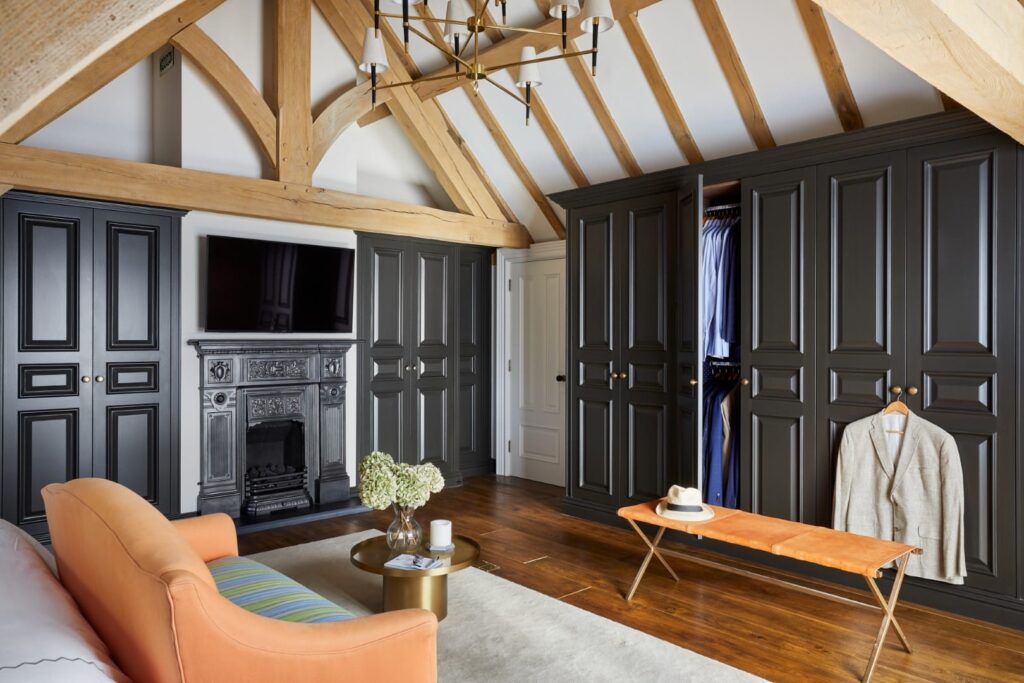 For a timeless and refined look, immerse yourself in the simplicity of monochromatic dressing room designs. Opting for a neutral palette provides a clean and uncluttered backdrop, allowing your clothes and accessories to take centre stage.
While the overall theme revolves around a monochromatic palette, there's room for personalisation and vibrancy. You can look into introducing pops of colour strategically through artwork or accessories to infuse the space with your personality. For instance, a colourful painting, a vibrant chair, or even a decorative vase can add character and individuality without compromising the overall simplicity of the design.
Are you ready to make your dream dressing room come true?
Whether it's helping you choose the right wood finishes, or designing a customised storage solution, our goal is to make your dream dressing room a reality.
Take the first step by booking a design consultation with us today.