Our top 8 walk-in wardrobe ideas will help you transform your dream dressing room into a reality, even if you're working with limited space.
A walk-in wardrobe is the epitome of luxury when it comes to home organisation.
It's not just there to store your clothes and accessories; it's a place where you can truly relax and unwind after a busy day. If you've got an eye for interior design, creating a luxury walk-in wardrobe is well within your reach.
Our walk-in wardrobe ideas are all about ensuring your wardrobe isn't just a place to stash clothes but a vibrant reflection of your personal flair. With a perfect blend of style and storage, you can stay organised and fashionable in your everyday life. Here's how you do it:
Choose a Bespoke Design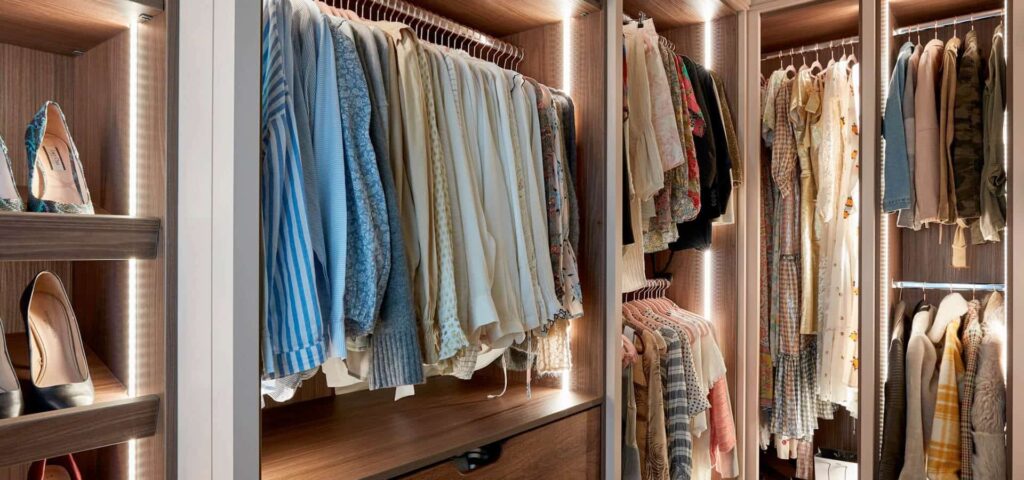 Bespoke designs work wonders in smaller walk-in wardrobe spaces.
The Heritage Wardrobe Company's designers have been in the industry for over a decade and can help you turn even the most challenging spaces into highly efficient storage solutions that perfectly fit your home.
By embracing bespoke designs, you can unlock the full potential of your space, transforming even the most challenging architectural features like sloped ceilings into an opportunity for creativity and functionality.
The beauty of working with us is that you will be able to choose from any paint colour that you wish, to match your home's aesthetic and create a wardrobe that embodies your unique style.
Custom Drawers and Shelving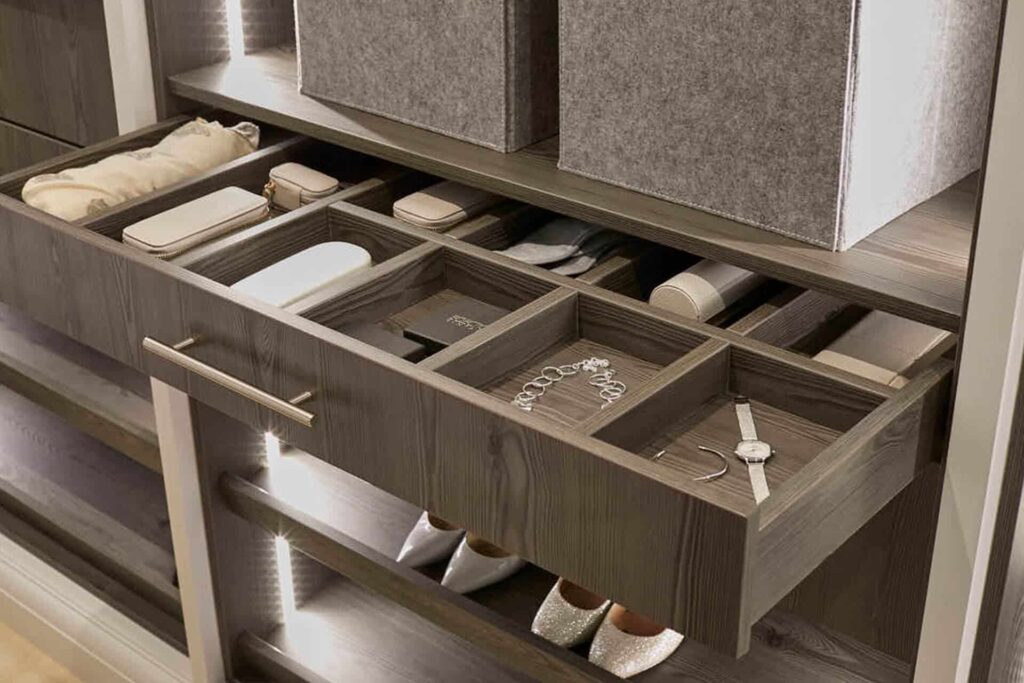 Investing in bespoke drawers and shelves is a must for a luxury walk-in wardrobe, as they can be designed to suit your specific storage needs and aesthetic preferences, allowing for a truly personalised space.
We also recommend looking into ceiling-high shelves, as they are a fantastic addition to any room and are especially well-suited for small walk-in wardrobes. They offer extra storage with minimal visual clutter, making your wardrobe look chic and organised.
Maximise Space with Hanging Rails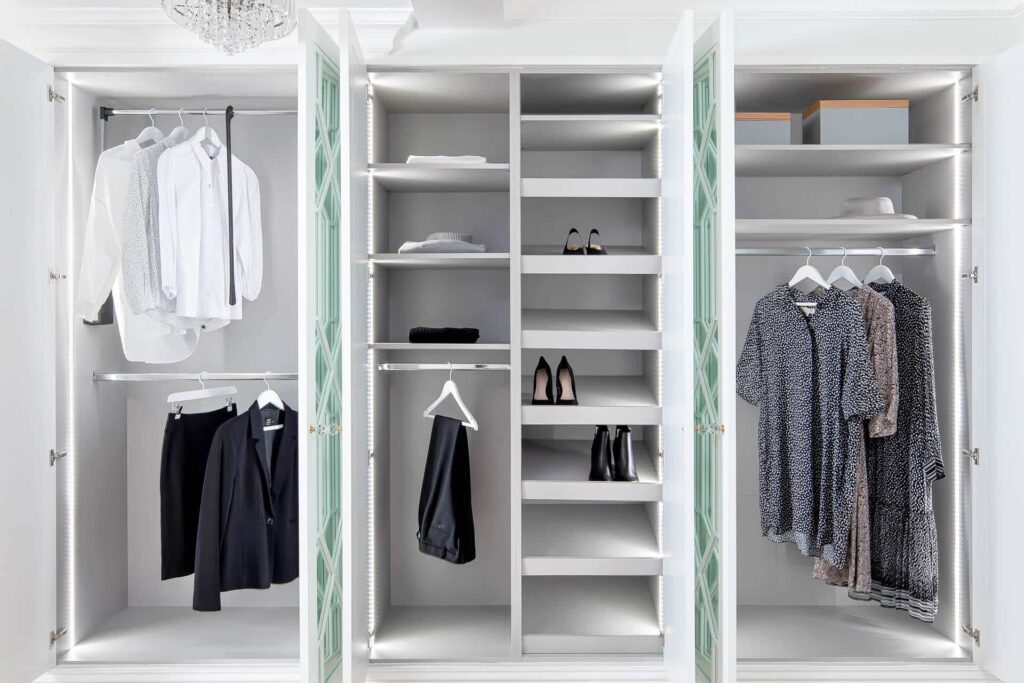 If your walk-in wardrobe is limited in width, consider incorporating double clothes rails. This doubles your hanging space, and longer items like trousers and dresses can be folded over their hangers to make the most of the storage potential, meaning you can also hang your suits and jackets over the hanger to save space. You can also explore options like a pull-down hanging rail for easier access.
Mirror Magic
Full-length mirrors are essential in any walk-in wardrobe. They not only serve a functional purpose but also make the space feel larger and more glamorous.
You can choose framed or frameless mirrors, depending on your style. Including mirrors on the back panels of the wardrobe, along with LEDs to bounce light around the wardrobe, enhances the feeling of space.
Matching Colour Schemes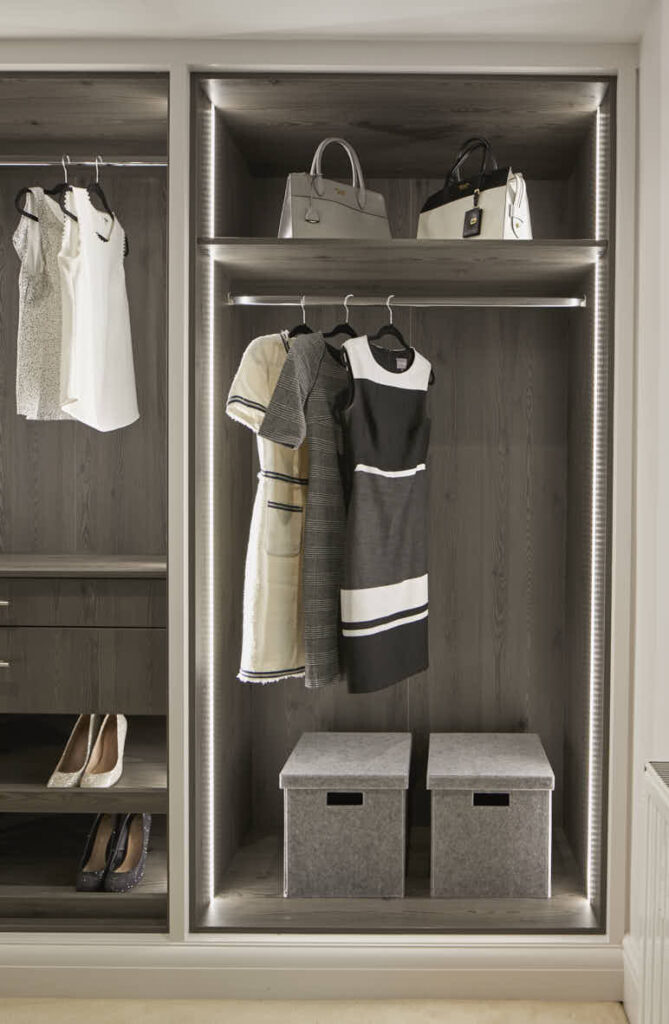 When deciding what colour scheme to go for, it's important to establish the look and feel of your bedroom.
Do you like minimalism? If so, you might find that neutral tones are an excellent choice for you, as they impart a sense of elegance and cleanliness to the overall aesthetic.
However, don't shy away from the potential of accent colours, as they hold the power to infuse character and depth into your bedroom's design
Consider Pull-Out Storage Units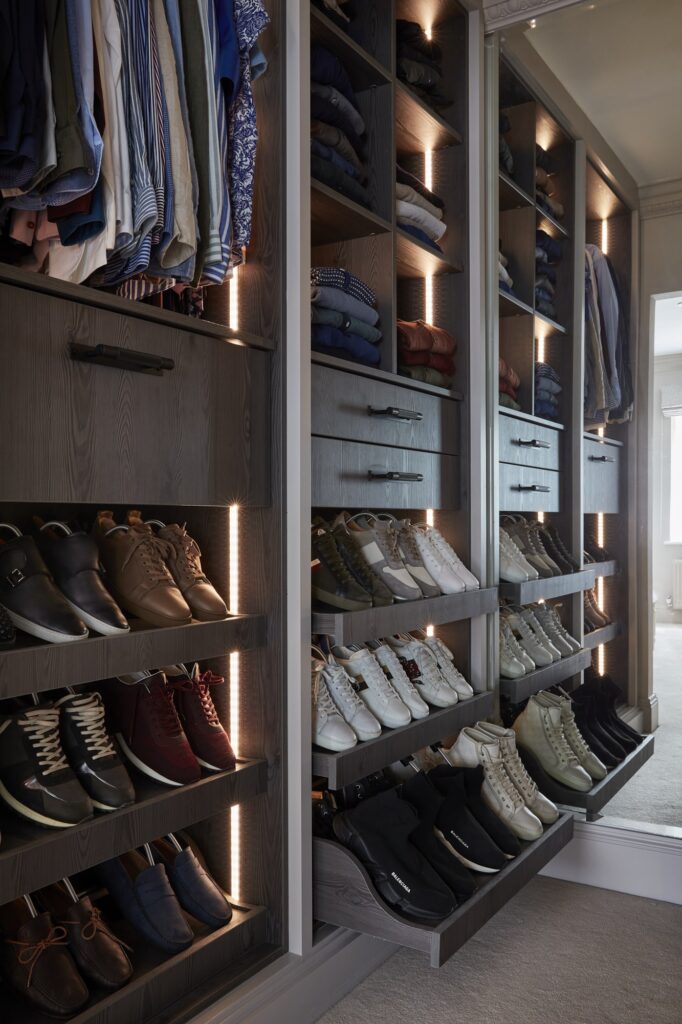 One of our favourite walk-in wardrobe ideas! Pull-out shoe storage units provide a convenient way to incorporate your shoe collection seamlessly into your walk-in wardrobe. They keep your shoes neatly organised and out of sight, creating the illusion of a larger space.
Pull-out storage units are also ideal for storing folded clothes, underwear, and socks, reducing visual clutter, perfect for a busy morning schedule.
Adding an Island for the Extra Glam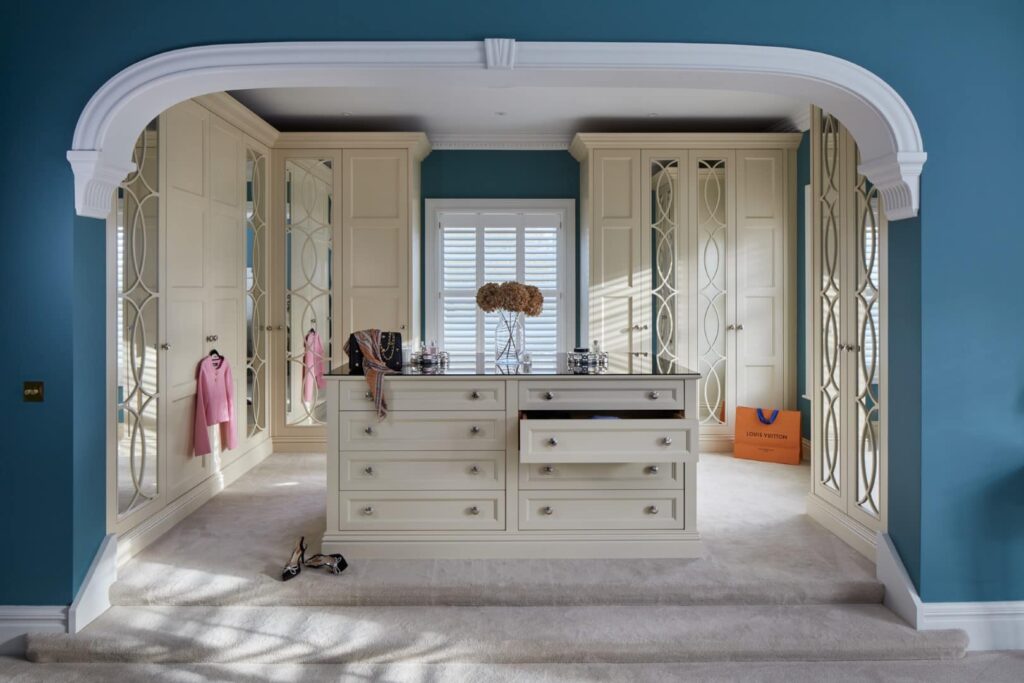 Transform your walk-in wardrobe with a central island unit, featuring glass tops to showcase your prized jewellery and accessories.
Even in smaller spaces, a freestanding dressing table can work wonders, providing a place to store your beauty products and accessories. With the right furniture and design, your small walk-in wardrobe can instantly look luxurious, a perfect fit for your home.
Experiment with Lighting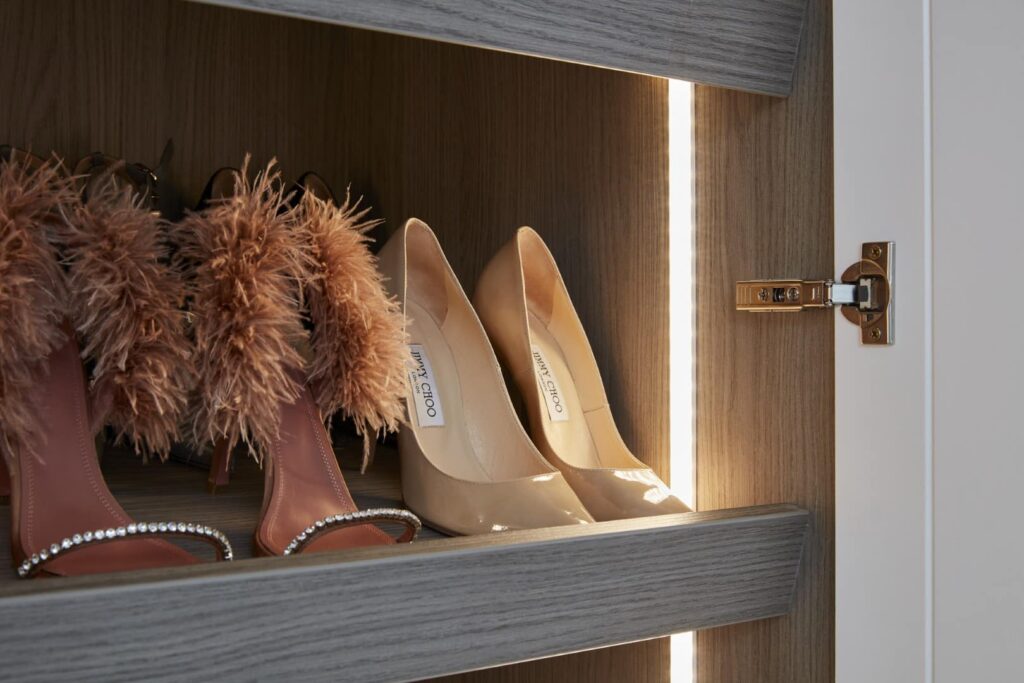 A well-lit space is essential, particularly when it comes to smaller areas. While darker shades can make larger homes feel cosier, lighter tones can make a small space seem more expansive.
To bring your windowless or compact rooms to life, a tip we recommend is to use light-reflecting surfaces and warm LEDs.
For instance, incorporating mirrored door designs or decorative glass finishes can create an atmosphere that maximises natural light and evokes a sense of spaciousness in your walk-in wardrobe.
What are your favourite walk-in wardrobe ideas?
At The Heritage Wardrobe Company, we have been designing luxury bespoke wardrobes for over a decade.
Our senior designers can assist you in coming up with walk-in wardrobe ideas that suit your space perfectly, no matter how big or small.
If you're looking to keep it simple, we can also add a clothes rail, a shoe rack, LEDs lights to create a minimalist walk-in wardrobe effect for you.
We work with your individual needs to ensure that your walk-in wardrobe is a perfect fit for your space.