A well-coordinated colour scheme can tie your rooms together, creating a sense of unity and flow as you move from one area to another.
Choosing the right colour for your wardrobe is an important decision, especially if you are investing in high-quality bespoke wardrobes, as this is an opportunity to paint your living space in a way that matches your personality.
Read on for some inspiration on what to consider when deciding on colour palettes for your dressing room and wardrobes.
Gathering inspirations
Take a moment to gaze out of your window and appreciate the beauty that surrounds you. The sky's serene blue, the warm, earthy terracotta bricks, and the tree's vibrant green are just a few examples of nature's stunning colour palette. Let these hues inspire your interior design choices and seamlessly incorporate them into your space.
Additionally, explore art, textiles, and photographs for captivating ideas. These sources can provide a starting point for selecting colours that resonate with your personal style. For design inspiration, we recommend following design accounts on Instagram like @homesandgardensofficial, @inigo.house, or @bayswaterinteriors.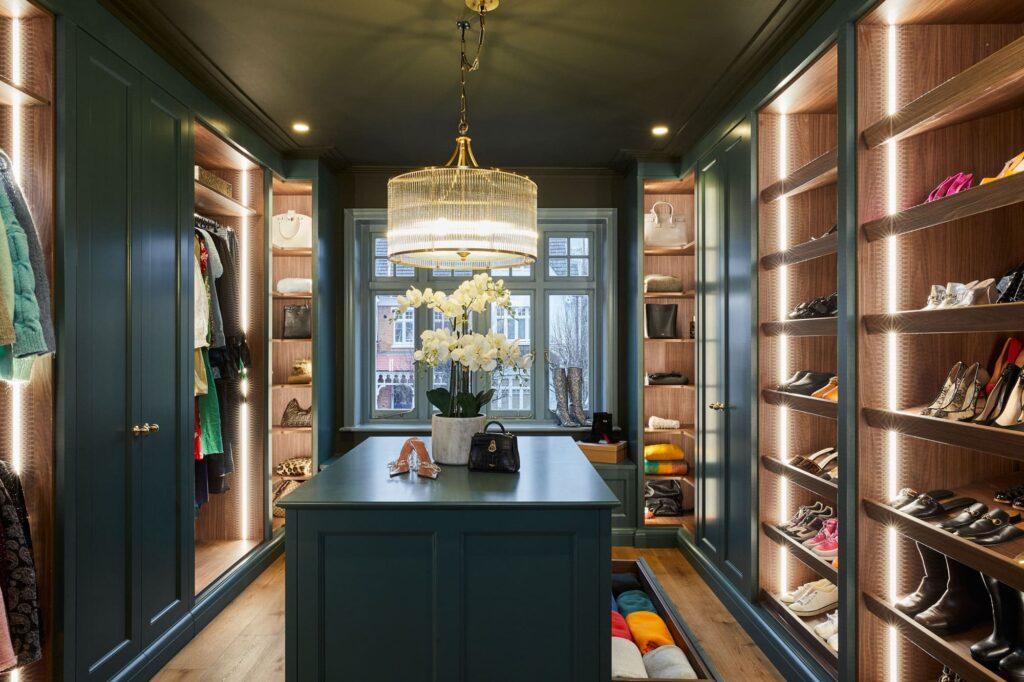 Choosing complementary colours
When it comes to painting your home, it's easy to fall into the trap of choosing the same colour for every room. But consider the unique personality of each space. By selecting a palette that complements the overall mood you want to create, your choice of colour can have a big impact on your state of mind.
For example, a colour that works well in a sunny, spacious kitchen might not be the ideal choice for a cosy, dimly lit living room. You might want to opt for blue, which is universally known to evoke a sense of calm and serenity, whereas vibrant yellows, pinks, greens, and reds are known to uplift your room and promote productivity.
Selecting complementary hues for your wardrobe can create a seamless connection between your personal space and the rest of your home. As part of your bespoke experience, we understand the significance of accents, and our senior designers will be able to guide you with the right colour to ensure that your custom wardrobes not only optimise storage but also enhance your home's overall aesthetic.
Choosing the right wardrobe style
Explore the possibilities today and take the first step towards your dream home, starting with your bedroom or dressing room. Our selection of over 18 bespoke wardrobe styles and options is thoughtfully designed to complement any interior style, whether it be a more classic vintage look or a more contemporary modern feel.
By harmonising colours, you can craft a welcoming interior that reflects your unique style. With The Heritage Wardrobe Company, you have the opportunity to merge functionality with elegance, creating a space that resonates with your vision of a well-coordinated home.
Transform your space
If you think you are ready to transform your space with the perfect colours for your wardrobes, our expert team at The Heritage Wardrobe Company can make your vision a reality.
Schedule a design consultation today and explore the endless possibilities of creating a wardrobe that reflects your unique taste.