In recent years, a bespoke dressing room has become more than just a place to get dressed for the day: it transforms into a retreat where one can escape the bustling outside world and fully relax in an ambience of quiet luxury.
Every aspect of your home deserves attention, especially spaces that cater to your daily routines.
Picture this: your personal oasis, meticulously crafted with luxurious designs that integrate high-end storage solutions, exquisite materials, and modern lighting.
If you've been contemplating the idea of investing in a dressing room, here are our top 4 reasons why a bespoke dressing room is a decision that's both stylish and smart.
Customise your dressing room to suit your individual style
A bespoke wardrobe allows you to personalise your wardrobe to fit your style and storage needs. From the choice of stylish doors to fitting even the most awkward corners, being bespoke means that everything takes precise measurements, resulting in wardrobes that are the perfect fit for your room.
Unlike pre-made wardrobes that offer limited customisation options, a bespoke dressing room gives you endless possibilities for how you can revamp the space.
A dressing room can be one that incorporates features like LED lighting, seating areas, a built-in vanity table, custom-built drawers, shelves, hanging sections, and specialised compartments to ensure that your clothes and accessories are not just stored but also displayed in a way that makes choosing an outfit a pleasant experience.
This level of personalisation means that every time you step into your dressing room, you're stepping into a space that resonates with your unique style.
Make your wardrobe more functional and efficient
One of the most frustrating aspects of traditional wardrobes is their lack of efficient organisation. Having a cluttered wardrobe can make the simple task of getting ready a daily struggle.
A bespoke dressing room, on the other hand, is meticulously designed to maximise functionality and efficiency.
Having a customised storage solution means that every article of clothing, accessory, and footwear has its designated place. With precisely planned shelving, drawers, hanging space, and compartments, you can bid farewell to the days of rummaging through cluttered shelves to find your favourite pair of jeans that you haven't worn since last summer.
A well-organised dressing room not only saves you time but also enhances your daily routine by reducing stress.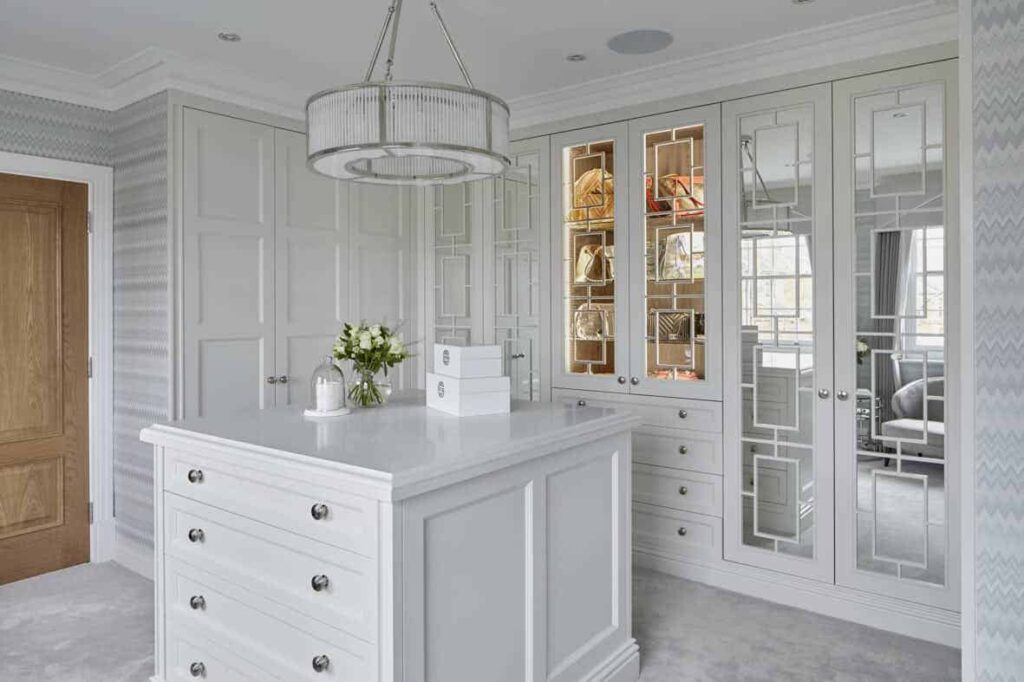 Long-lasting investment
Investing in a bespoke dressing room is more than just a fleeting design trend; it's a perfect long-lasting investment that stands the test of time.
When you opt for tailor-made solutions, you're not only investing in the design but also in the quality of materials. When working with designers, they will help you come up with a dressing room design that remains functional and visually appealing for years to come.
From the finest wood veneers to long-lasting colours, bespoke dressing rooms are built to withstand the usage of daily use.
The attention to detail ensures that every element is meticulously crafted so that you will not need to keep replacing features and units for years to come. It's a commitment to quality that pays off in the long run.
Increase the value of your house
If you choose high-quality wardrobes in a timeless style, they can even help to increase your home's appeal when it comes time to sell. This is because every element that adds uniqueness and luxury to a home also contributes to its market value.
A bespoke dressing room is a sought-after feature for potential buyers, making it more appealing in a competitive market.
A well-designed dressing room can easily become a selling point that increases the desirability and perceived value of your home. So, in addition to enhancing your daily life, a bespoke dressing room also has the potential to yield returns should you decide to sell your property in the future.
If you're looking to infuse a touch of luxury and practicality into your home, a bespoke dressing room is undoubtedly a choice worth considering.
Now that you understand the importance of investing in a bespoke dressing room, we can help you make your dream dressing room come true.
Book a design visit with us today, and our team of experienced designers will bring your vision to life. We recognise that each individual is unique, and that's why we approach every project with a fresh perspective, ensuring that your dressing room is an embodiment of your personality and preferences.